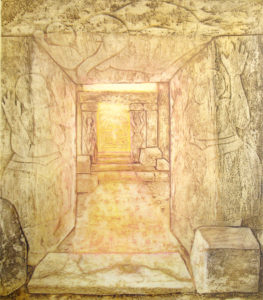 Stories of Magic and Mystery
One of the most powerful events that changed my life and sent me down this path of myth and mystery, was learning about Malta. This tiny island in the Mediterranean Sea has 35 of the planets oldest megalithic, solar aligned temples. The mystery of how the stones were moved and aligned with the rising equinox sun filled me with wonder. The myth of a Giantess carrying the huge stones with a baby on her shoulder, and the rituals that were held in the temples, stirred my imagination. While I was there on a pilgrimage in 2004 I could feel the numinous spirit of the place and the presence of the ancestors.
Communication with the Spirit World
I relate to the shamans who traveled deep into sacred caves. Their goal was not to make decorative art but to have transformative experiences that involved communication with the spirit world. I am of a long line of storytellers bringing back these tales from the other side, to give us guidance and inspiration.
Creation stories, mythic tales, and archetypes of goddesses and tricksters are rich with imagery. I also enjoy the shifting perspective of things that are one thing, and then another, and the sacred patterns found in the natural world. I saw that we needed more stories of strong, whole women, from that, came a series of Giantesses. These are my personal mythologies.
"The important thing is to work in a state of mind that approaches prayer"  Henri Matisse
A Dream of Malta
I had a profound and moving dream of how the temples were built. I dreamed the people joined their minds and hearts and music, singing the stones into place. The people became part of the temple in order to preserve their way of life.  Over a decade of inspiration from Malta created a body of work that became a story and video, "The People with Spirits Made of Stone"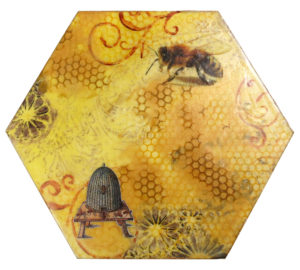 Encaustic Painting Exploration
One summer some friends and I did an informal artist residency, where we each worked in our own studios on a project of exploration. I decided to try encaustic–painting with hot, pigmented wax. It was exciting to take on something completely different and the challenge of a new medium. I included monotype prints as a base under the encaustic. Both processes feel similar, where the layering is important and accidental surprises carry you along. My love of gardening and appreciation of our endangered bees inspired the Vanishing Bee Series, created on hexagon panels– a perfect complement to working in beeswax.
A Sacred Act
Art is a sacred act of creation to me, an act of transformation that affects me as I transform the matrix. I am always intrigued by where the journey of the plate takes me. I hope my stories and creations will connect with you on deeper, intuitive levels so that you can experience the Spirit within the making, and be immersed in my world of magic.
Original Fine Art, Limited Edition Etchings
Contact Caren Catterall to purchase one of these collectible fine art works on paper.
You deserve to have beauty and inspiration in your life!