Inspired by the Mystery
Welcome to my world of mythic tales, mystery, and magic.
The Mythic stories are drawn from the well of human experience, with archetypes that we can recognize.
The Mystery is the unanswerable that inspires us to think larger than ourselves or to make connections in the patterns of the world.
Magic is about the ideas within me that I can manifest and bring into being through my art.
Pick one of the themed galleries and enjoy wandering through my world.
Original, Limited Edition, Fine Art Etchings
I am a Sonoma County artist who creates copper plate etchings, known as intaglio prints.  Each one is inked, hand wiped, and printed on cotton rag paper in a small limited edition. There is no mechanical reproduction here, and the skill of the artist is always evident in the creation of each original, limited edition print. Printmaking has many different kinds of "voices" to choose from, and each type of printmaking has a different look to it. Learn more about printmaking here.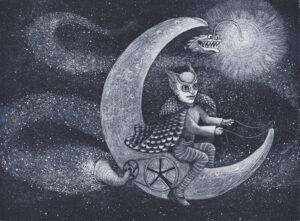 Welcome Back Open Studios!
Sonoma County Art Trails #42
September 18,19 and 25,26 2021
Link to 2021 Catalog here
I am delighted to welcome you once again into my beautiful studio space for Sonoma County Art Trails. Being blessed with the Studio Number 42, I believe that qualifies me to answer all the ultimate questions of Life, the Universe, and Everything! Come visit with an inquiring mind open to the magic of the world.
With 136 fine artists to see throughout Sonoma County it is hard to decide how to plan your tour. You can visit the Sebastopol Center for the Arts Preview Exhibit (Gallery hours Th-Sunday 10-5), join us for the Opening Thursday Sept. 16 (5-7, masked, food and drinks outside), or enjoy the exhibit from the comfort and safety of your home at https://www.sebarts.org/sonoma-county-art-trails-2021  (link live after opening date Thursday)
I plan on a printmaking demonstration at noon every day, so you can see all the work that goes into printing an etching. My studio has two big barn doors to open for ventilation, and we will be following mask and sanitizing guidelines for the comfort and safety of all.
You deserve beauty and inspiration in the midst of trying times, and maybe you are ready for some new art for those walls! Stay well and thank you for your support.
Original Fine Art, Limited Edition Etchings
Collectible Art Works on Paper