Inspired by the Mystery
Welcome to my world of mythic tales, mystery, and magic.
The Mythic stories are drawn from the well of human experience, with archetypes that we can recognize. When I consider what kind of Myths I want to tell I think about what we need to hear. We need the impossible and the magical to give us hope and wonder.
The Mystery is the wonder that inspires us to think larger than ourselves or to make connections in the patterns of the world.
Magic is about the ideas within me that I can manifest and bring into being through my art.
May you feel the spirit coming through as you enjoy wandering through my world.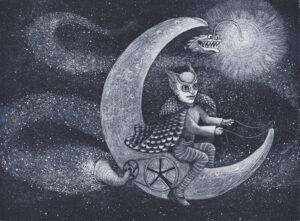 Art at the Source
Open Studios 2022
June 4, 5 and 11, 12, 2022
Studio number 61,
11214 Occidental Rd, Seb.
Link to 2022 Catalog here
I welcome you back to my beautiful studio space in the redwoods. Watch my printmaking demonstration at noon every day, and appreciate all the work that goes into printing an etching. 
Save the Date for Sonoma County Art Trails, September 24, 25 and October 1, 2
You deserve beauty and inspiration. Are you ready for some new art for those same old four walls?
Original, Limited Edition, Fine Art Etchings